EMX-VMDS 100 foot Exit Wand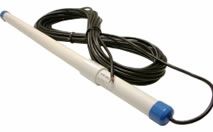 EMX-VMDS 100 foot Exit Wand
The VMD202 Vehicle Motion Detector is the most advanced single-piece vehicle motion sensor on the market today. The probe and its electronics are housed in a slim design that is buried next to a driveway. The VMD202-R Sensitivity Remote Control makes installation and fine tuning simple. Program the VMD202's 10 sensitivity settings with the VMD202-R Sensitivity Remote Control. Simply plug the VMD202-R into the harness to tune the VMD202. The setting is retained in non-volatile memory. The VMD-R can be removed and used for multiple installations, or left in place if tampering is not a concern. The VMD202 Vehicle Motion Detector accepts a wide range of power inputs. If used in a location without power, one 9V battery will power the VMD202 for 6 months. The low standby current of 250uA is great for solar power applications.
Key Features
Opens gate for exiting visitors.
Buries next to drive and senses moving metal such as a car or bicycle.
Does not go directly under the drive like an exit loop.
Not for use as a gate reversing device.