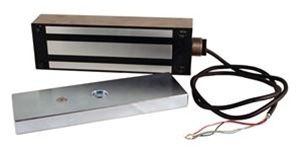 POLARIS MAGNETIC LOCK
The Polaris Automatic Magnetic Gate Lock provides an additional level of security for your gate and property. Magnetic locking mechanism is powered from external AC power source. Recommended for high wind situations. For use with swing gate operators.
Product Features:
Secures the gate in the closed position.
The gate locks and unlocks automatically when the gate opens and closes.
Recommended for gates over 8 feet long and installations where high winds are common.
Installs easily and wires directly to the operator.
Battery backup provided by gate operator batteries.
Compatible with most gate operators.
12v DC powered.
One year warranty.